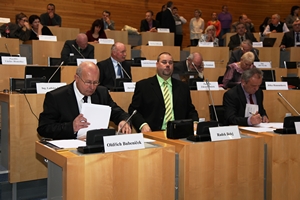 From necessity to approach to citizen, strengthen influence on public actions and in consequence of approaching to EU, was achieved the new territorial structure and on 1st January 2001 came into existence 14 authorities.

Council of the Usti Region, elected in November 2000, has 55 members and his session is public. Executive organ is Board of Councillors of the Usti Region with 11 members; they were elected from the members of Council of the Region. The Region represents outward President. The function of public administration within Region ensures the Regional Authority.

Council of the Usti Region performs local government, it can move the bills to Chamber of Deputies, to Constitutional Court to cancel legal regulations, it can also issue generally definite announcement of the Region, coordinate development of the Region according to grand strategic documents, which is making too, make decision about international co-operation, approve budget of the Region, establish and cancel contributory organization and other activities.